TUESDAY 16th JANUARY 2018
DR STEPHANIE DALLEY
(University of Oxford)
THE HANGING GARDEN OF BABYLON AND THE MEANING OF EZEKIEL 31:1-9
6.00pm – Lecture Theatre G6, Ground Floor,
Institute of Archaeology, University College,
London WC1H OPY
The Hanging Garden, one of the seven wonders of the ancient world, could not be found by the excavators of Babylon, nor in cuneiform texts from Babylon.  Much later Classical texts gave specific details that could not be matched from Mesopotamian evidence.  This talk will show firm evidence to identify the palace garden with the one built by the Assyrian king Sennacherib at Nineveh.  The solution, which has been the focus of Stephanie Dalley's book (OUP 2013) and two television documentaries, throws light on Ezekiel 31:1-9, which has sometimes been dismissed by translators and commentators.
Stephanie Dalley studied Assyriology at Cambridge for a BA, then at SOAS for a PhD.   She has taken part in excavations in Iraq, Jordan, Turkey and Syria, and published excavated and unprovenanced cuneiform tablets from excavations, museums and private collections.  She has taught at Oxford and Edinburgh Universities.  She has lectured widely in the UK, USA, the Far East, and Europe.  Some of her work has been translated into Arabic, Italian, Japanese and Chinese.  She is married with three children and five grandchildren.
followed by refreshments
Organised jointly with the Institute of Archaeology, University College, London
---
TUESDAY 23rd JANUARY 2018 (AIAS MANCHESTER)
PROFESSOR GEORGE BROOKE
(University of Manchester)
THE COPPER SCROLL: FROM ANCIENT TEMPLE TREASURE TO MODERN MEDIA STAR
7.30pm – Hale Synagogue,Wicker Lane, Hale, Manchester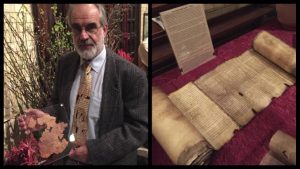 This illustrated talk will engage with many fascinating aspects of the Copper Scroll from Qumran's Cave 3, from its opening in Manchester in 1955-1956 to current debates about its significance. Alongside consideration of how it has been understood, there will also be some discussion of how and why it has featured in so many novels and films.
George J. Brooke is Rylands Professor of Biblical Criticism and Exegesis Emeritus at the University of Manchester. He is Visiting Professor of Biblical Studies at the University of Chester. In 2010, he was awarded a D.D. by Oxford University. He has been President both of the British Association for Jewish Studies and the Society for Old Testament Study. He has written and edited many books on Qumran and the Dead Sea Scrolls. George Brooke played a major role in bringing the Copper Scroll to the Manchester Museum in 1997 for the Exhibition Treasures from the Dead Sea: The Copper Scroll after 2000 Years.
followed by refreshments
*Priority will be given for bookings made through Eventbrite to reserve a seat
---
MONDAY 12th FEBRUARY 2018
PROFESSOR RICHARD DUMBRILL
(The Institute of Musical Research,
Royal Holloway and Senate House, University of London)
DECODING THE ANCIENT BABYLONIAN MUSICAL SYSTEM
6.00pm – Lecture Theatre G6, Ground Floor, Institute of Archaeology, University College,
London WC1H OPY
Richard Dumbrill is the leading archaeomusicologist of Ancient Near Eastern materials. He is the author of The Archaeomusicology of the Ancient Near East (1998, 2005) and of many other books and articles. He is the Editor of ICONEA proceedings, of Near Eastern Musicology Online (NEMO), and co-editor of ARAM. His speciality is the music of Babylon from the early Bronze Age until the middle of the first millennium BCE.
Professor Dumbrill's talk will show how he was able to discover the nature of the musical scales that were used four thousand years ago, with audio-visual examples. It will include his translation and interpretation of the oldest ever written song, the Hurrian melody from Ugarit written about 3,500 years ago.
followed by refreshments
Organised jointly with the Institute of Archaeology, University College, London
---
THURSDAY 8th MARCH 2018
PROFESSOR JOAN TAYLOR
(King's College, London)
FINDING QUMRAN CAVE 1Q ARTEFACTS
4.00pm – BP Lecture Theatre, Clore Education Centre, The British Museum.
Organised jointly with the Palestine Exploration Fund.
*Please ensure you book your ticket for this lecture by telephone at the British Museum Box office on:
+44 (0)20 7323 8181 or online at www.britishmuseum.org and note the earlier start time than usual.
---