The Society hosts a number of online lectures throughout the year. Here is a summary of past events for 2022, with links to the lecture recordings.
RAMI ARAV — Three Decades of Excavations at Bethsaida
20 January 2022 (online, via Zoom)
In this lecture, Professor Arav presented a review of three decades of archaeological investigations at the important site of Bethsaida, on the Sea of Galilee — a city settled on and off between the 10th century BCE and the 4th century CE.
The story started in the 10th century BCE, when the site served as the capital of the Aramaean kingdom of Geshur. Excavations of these phases have revealed a stunning succession of city gates, high places with pagan stele representing the moon god of Haran, a granary and a Neo-Hittite style palace. This city was destroyed in 920 BC.
Yet some fifty years after this destruction, Bethsaida had grown again, boasting the largest biblical-era city gate ever found in Israel, only to be brought to an end by the 732 BCE conquest of Assyrian King Tiglath Pileser III. It went on to become a Phoenician settlement, then around 100 BCE, the Hasmoneans conquered the site. In 60 CE Herod the Great's son, Philip, granted the newly named Julias the status of a Greek city, building it a temple and new walls.
Rami Arav is a professor in the Department of Philosophy and Religion at the
University of Nebraska at Omaha. He has been directing the excavations of biblical Bethsaida Since 1987, and is the co-author of the four-volume book, Bethsaida, a City by the Northern Shores of the Sea of Galilee.
A recording of this video is now available at: AIAS YouTube (lecture starts at 2:06 minutes).
YUVAL GADOT —New Light on Iron Age and Persian Period Jerusalem
17 February 2022 (online, via Zoom)
Jerusalem is perhaps the most excavated place in the world and yet the ancient city's size and location are still under debate.
This beautifully-illustrated lecture explored recent finds from the Western slope of the Southeastern ridge, to shed new light on the wealth of Jerusalem's elite during the 7th century BCE, the city's destruction, and its revival during the 6th and 5th centuries BCE.
Professor Yuval Gadot is Head of the Jacob M. Alkow Department of Archaeology and Ancient Near Eastern Cultures at Tel-Aviv University. He was the field director of the Tel-Aviv and Heidelberg Universities' joint expedition at Ramat Rahel. From 2013 he has led TAU's excavations in the core of ancient Jerusalem and its hinterland. He is the author of numerous articles and excavations reports.
The video recording of this lecture is available at: AIAS YouTube (lecture starts at 4:55 minutes).
PHILIP ALEXANDER — Did Rabbis Write Down the Mishnah? Orality and Writing in the Jewish World in Late Antiquity
15 March 2022 (online, via Zoom)
The Mishnah, the Talmuds and the Midrashim are among the masterpieces of Jewish literature from late antiquity. Between them, they raise many questions, not least how they were composed, and then transmitted to future generations.
To answer these questions, Professor Alexander turned to the documentary and artefactual evidence for orality and writing in Rabbinic culture, to show how writing held a far greater role in the process than usually thought.
Phillip Alexander is Emeritus Professor of Post-biblical Jewish Literature at the University of Manchester. He is also a former President of the Oxford Centre for Hebrew and Jewish Studies, and a founding Director of the Manchester University Centre for Jewish Studies. He is currently supervising a project to produce a catalogue of Hebrew manuscripts in the John Rylands Library Manchester.
A video recording of this lecture is available at AIAS YouTube (the lecture starts at 8:14 minutes).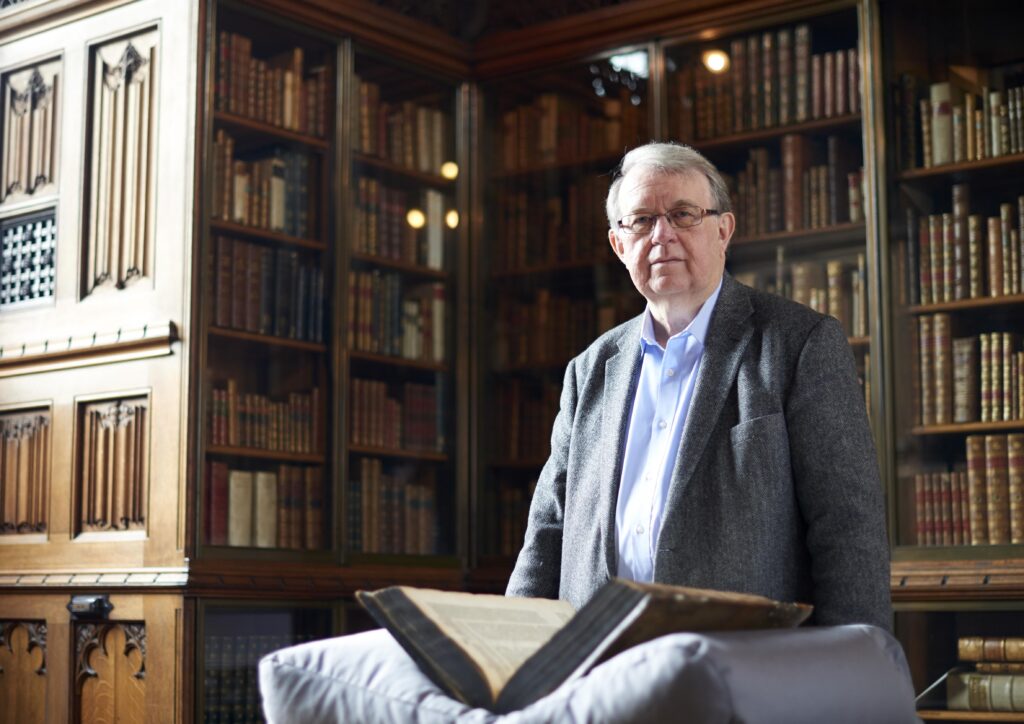 KAREN STERN — Inscription, Touch and Worship in the Synagogue of Dura Europos
11 April 2022 (online, via Zoom)
The ancient synagogue at Dura Europos has spectacular wall murals, which reflect and project visual modes of biblical interpretation.
Seeing was not the only way to experience devotional landscapes in ancient Syria. Visitors might choose other sensory means to engage with their surroundings and perceive, encounter, and interact with the holy and each other.
In this presentation, Professor Stern re-imagined their reality, by considering the significance of these other experiences, mediated through properties of touch. How did unofficial inscriptions, drawings, and changes to the murals reflect the ways in which people interacted with the Dura synagogue? What tactile encounters did they have with the divine?
Karen B. Stern is Professor of History, Tow Professor (2019–2021) and Wolfe Professor (2021–22) at Brooklyn College. She is author of Inscribing Devotion and Death: Archaeological Evidence for Jewish Populations of North Africa (Leiden; Boston: Brill 2007); Writing on the Wall: Graffiti and the Forgotten Jews of Antiquity (Princeton: Princeton University Press, 2020), winner of a 2020 Jordan Schnitzer Book Award through the Association for Jewish Studies; and co-editor of With the Loyal You Show Yourself Loyal: Essays on Relationships in the Hebrew Bible in Honor of Saul M. Olyan (Atlanta: SBL Press, 2021).
A video recording of this lecture is available at: AIAS YouTube The lecture starts at 5:27 minutes.
BEATRICE ST LAURENT — The Transformation of the Temple Mount to Bayt al-Maqdis in the Early Umayyad Period by Mu'āwiya, 638-680
16 June 2022 (online via Zoom)
This lecture explored the early Islamic monuments of Umayyad Jerusalem. We visited the first mosque, Dome of the Rock, Dome of the Chain, and the various city gates and sanctuary walls, to see Jerusalem's transformation into the new Umayyad capital.
Dr St Laurent also proposed that monuments previously attributed to Caliph 'Abd al-Malik (685-705) should be re-dated to the first Umayyad Commander of the Faithful, Mu'āwiya, between 638 and 680 AD, giving us new insights into this key moment in Jerusalem's development.
Dr. Beatrice St. Laurent is Professor of Art History at Bridgewater State University in Massachusetts. She has written extensively on the Dome of the Rock and the Haram al-Sharif, with her latest book, co-authored with Isam Awwad, due to be published in 2023: Capitalizing Jerusalem: Mu'āwiya's Urban Vision 638-680.
A video recording of this lecture is available at AIAS YouTube. The lecture starts at 7:05 minutes.
REBEKAH WELTON — Food and Alcohol in the Hebrew Bible
14 July 2022 (online, via Zoom)
Securing access to food was a core concern for society in ancient Israel and Judah. This is reflected in the biblical texts, which are saturated with references to food and drink across all genres. These can be supplemented with archaeological data — allowing us to understand the role of these things in the lives of ordinary people, as well as those who helped form the ancient Hebrew texts.
This lecture explored food and drink in ancient Israelite and Judahite society, and the role feasts and ritual consumption played in their lives.
Dr Rebekah Welton is a Lecturer in Hebrew Bible at the University of Exeter. Her most recent book, "He Is a Glutton and a Drunkard": Deviant Consumption in the Hebrew Bible, was published by Brill in 2020. Dr Welton is also one of the AIAS Trustees, as well as Book Reviews Editor for our journal Strata.
A video recording of this lecture is now available at AIAS YouTube. The presentation starts at 7:09 minutes.
STEVE MASON — Flavians in Galilee (67 CE): Their Aims and Activities
15 September 2022 (online, via Zoom)
The First Jewish Revolt against Rome is often seen as an intense national conflict lasting from 66 to 73/74 CE. In this lecture, Professor Mason showed how there are problems with this view.
Vespasian arrived in 67, engaged in operations in Galilee, and left the field in 69 CE. This period included a one-year hiatus, following Nero's death in June 68, and two winters of inactivity in military quarters.
Understanding the actual pace of the conflict brings a new understanding of what actually happened in Galilee over those years, which are set here against the wider background of Roman governance and Judaean-Jerusalem affairs.
Steve Mason is Professor Emeritus of Ancient Mediterranean Religions and Cultures at the University of Groningen. His research explores the history and literature of the Roman East, with a particular focus on Judaea.
His monographs include Flavius Josephus on the Pharisees (1991), Josephus and the New Testament (2003), Josephus, Judaism, and Christian Origins (2009), A History of the Jewish War, AD 66–74 (2016), and Orientation to the History of Roman Judaea (2016). He is also editor of the international project, Flavius Josephus: Translation and Commentary.
A video recording of this lecture is now available at AIAS YouTube. The presentation starts
at 2:51 minutes.
ANDREA M. BERLIN — One Site, Two Peoples: Phoenicians and Jews at Kedesh of the Upper Galilee
26 October 2022 (online, via Zoom)
Excavations at Tell Kedesh have revealed an enormous administrative building built in the later sixth century BC. Over the next 350 years, ths complex provided a stage for interactions between imperial powers, provincial administrators and local elites – as control shifted from the Achaemenid Persians, to the Ptolemies of Egypt, and then the Seleucids of Syria.
In this online lecture, Professor Berlin presented some of the intriguing discoveries from the site — glass and stone seals that show the adoption of Persian styles; store rooms with jars full of experimental wheat; and reception rooms and dishes that show rural knowledge of cosmopolitan lifestyles.
Other key material included an archive of over 2000 clay bullae used by local elites, depicting Greek and Phoenician deities and symbols, and the largest gold coin ever found in Israel, revealing a bird's-eye view of power diplomacy in the early second century BCE.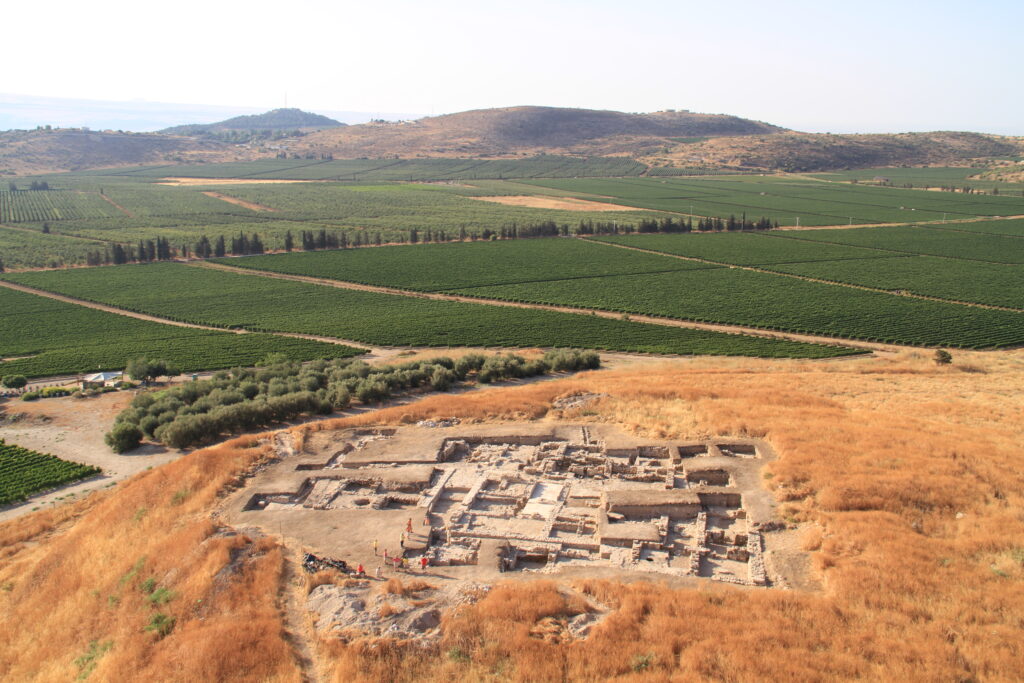 A video recording of this lecture is available at AIAS YouTube. The presentation starts at 6:51 minutes.
LIRAM CARMEL AND DANIEL MASTER — Recent Advances in DNA Technology and their Contribution to Archaeology in Israel
22 November 2022 (online, via Zoom)
This webinar was held as a joint AIAS/ British Friends of Hebrew University event, with three leading scholars from the world of genetics and archaeology coming together to discuss the contribution of DNA evidence to archaeological questions of demography, movement of people, and the interactions between migrant and resident populations.
A video recording of this lecture is available at AIAS YouTube. The presentation starts at 5:16 minutes.
DAVID HENDIN — Money in Judea: Bronze Age to Bar Kokhba
13 December 2022 (online, via Zoom)
How did money work before the invention of coinage? And what happened when coins suddenly arrived on the scene? Renowned numismatic expert, David Hendin, explored these and other issues in a fascinating lecture on the history of money in ancient Judea.
Before coins existed, exchanges took place using metals of various standards, which market traders weighed using ancient scale weights in a range of shapes. Coins were introduced to ancient Israel gradually from the seventh century BC onwards — with local issues appearing during the Persian period.
The Jerusalem mint became the source of coinage of Antiochus VII, going on to produce coins for the Hasmoneans, Herodians, and Prefects and Procurators of Judaea, as well as through the Jewish War. Judean coins were also struck during the Bar Kokhba revolt, but not in Jerusalem.
A video recording of this lecture can be viewed at AIAS YouTube. The presentation starts at 3:55 minutes.